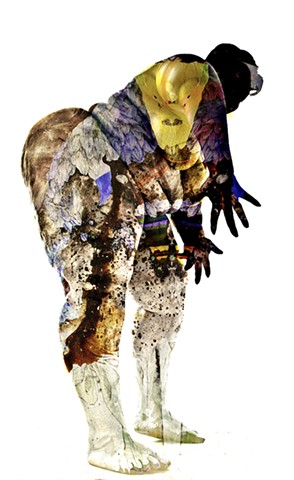 About Michael B. Platt:
Michael B. Platt is a 2007 recipient of the prestigious Franz and Virginia Bader Fund Grant. Long known as a printmaker, Platt now prefers the more encompassing designation, "imagemaker." His artwork recently has turned to digital imagery and book art that combines image and poetry—fragments, allowing us glimpses of our selves. He continues to create artwork that centers on figurative explorations of life's survivors, the marginalized, referencing history and circumstance in the rites, rituals and expressions of our human condition.
Platt has exhibited internationally and nationally. His latest one-person shows were In Transit, International Visions -The Gallery, Washington, DC, 2007 and Just Above Water, at the University of Maryland, 2006. Numerous private collections have his art in their permanent holdings as do the Corcoran Museum; the Smithsonian Museum of American Art; the Library of Congress' Prints and Photographs Collection and its Rare Books and Special Collections; the Schomburg Research Center in Black Culture of the New York Public Library; the Yale University Art Gallery; the Harris Poetry Collection of the Rockefeller Library of Brown University; the David C. Driskell Center Collection of the University of Maryland and the Hampton University Art Museum. [192 words]
In 2003 Howard University's James A. Porter Colloquium commissioned Platt to create the inaugural print [Two Sisters #2] for its 2004 conference. In 2004 he participated in the DC Print Portfolio Project, sponsored by the District of Columbia Commission on the Arts and Humanities in conjunction with the David Adamson Gallery. In 2006 Platt was invited as a Commissioned Artist to participate in an exhibition organized by the Reginald F. Lewis African American Museum in Baltimore in collaboration with the Maryland Historical Society and the Maryland Institute College of Art for their multi-venue 2007 exhibit, At Freedom's Door: Challenging Slavery in Maryland. April 2007, Platt's work was exhibited in the ArtDC-International Art Fair, held in Washington, DC's new Convention Center. [121 words]


Artist's Statement: Michael B. Platt
For the past three years my imagery has centered on ritual and the
transformation of the human spirit that occurs when it confronts imagined
or actual events and circumstances. Most recently, using digitally manipulated
female figures to manifest such transformations in my prints, as well as the
artist books and broadsides done in collaboration with poet Carol Beane, I have
addressed issues of slavery, Hurricane Katrina, waiting, and searching for home.